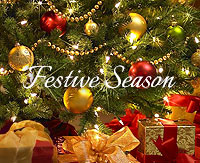 Christmas and New Year's Eve, a festive season that is always celebrated with great fun and devotion. A celebration among families, relatives, friends to cherish the beautiful moment one time a year. The time where everyone delighted with shopping discounts, special services, free extras, free music concerts as well as beach parties while hotels, villas and businesses are nicely decorated with Christmas tree and wreath in purpose of bringing the festive season ambience to their guests and customers.
This is also one moment being the highlight for Bali's tourism industry to indulge travelers. Savoring Christmas food and drinks like turkey and eggnog while making a good chat and laugh throughout the day. So does the New Year celebration in Bali, which is packed with people along the beaches in the night of New Year countdown, while a more intimate celebration with family and friends can be unforgettable in this moment of togetherness.
Our festive events are a special treatment for our guests in the end of the year. There will be a lovely Christmas Dinner and the New Year's Eve Party. The set menu and the buffet dinner will be enchanted by live combo band, traditional Balinese Barong dance, and live DJ entertainment.
This is the season to be jolly with us!
CHRISTMAS
# Monday, 24 December 2012, Christmas Eve Tradition Dinner (Set menu)
# Tuesday, 25 December 2012, Christmas Day Classic Dinner (Buffet)
NEW YEAR
# Monday, 31 December 2012, New Year's Eve Dinner and New Year Countdown (Set menu)
# Tuesday, 01 January 2013, New Year Day Dinner (Buffet)
For more info and reservation:
# Email: [email protected]
# Phone: +62(361)735566
» View more details on this page