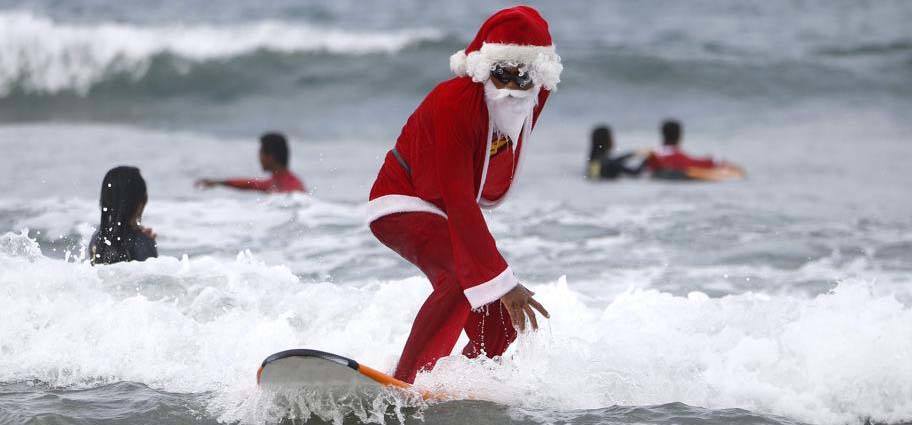 Photo courtesy: inbali.org
Bali Christmas Holiday! This one idea probably comes out after the boredom of spending the festive season last year only at home with heater, hot chocolate, turkeys dining, scrabble and tv programs.
For this year, all you and family expect somewhere warm with the sunshine to celebrate Christmas. And Bali should be on the list as an ideal festive escape to avoid the cold weather, snow and winter storm for a moment. No white Christmas, but welcome the tropical one!
No confusion for what things to do during Christmas in Bali. Here, we have listed 6 activities to make  your Bali Christmas itinerary easier, more fun  and full of excitement. Your Christmas's family moment won't be the same. Take a look!
1# Bali Christmas holiday = summer beach days!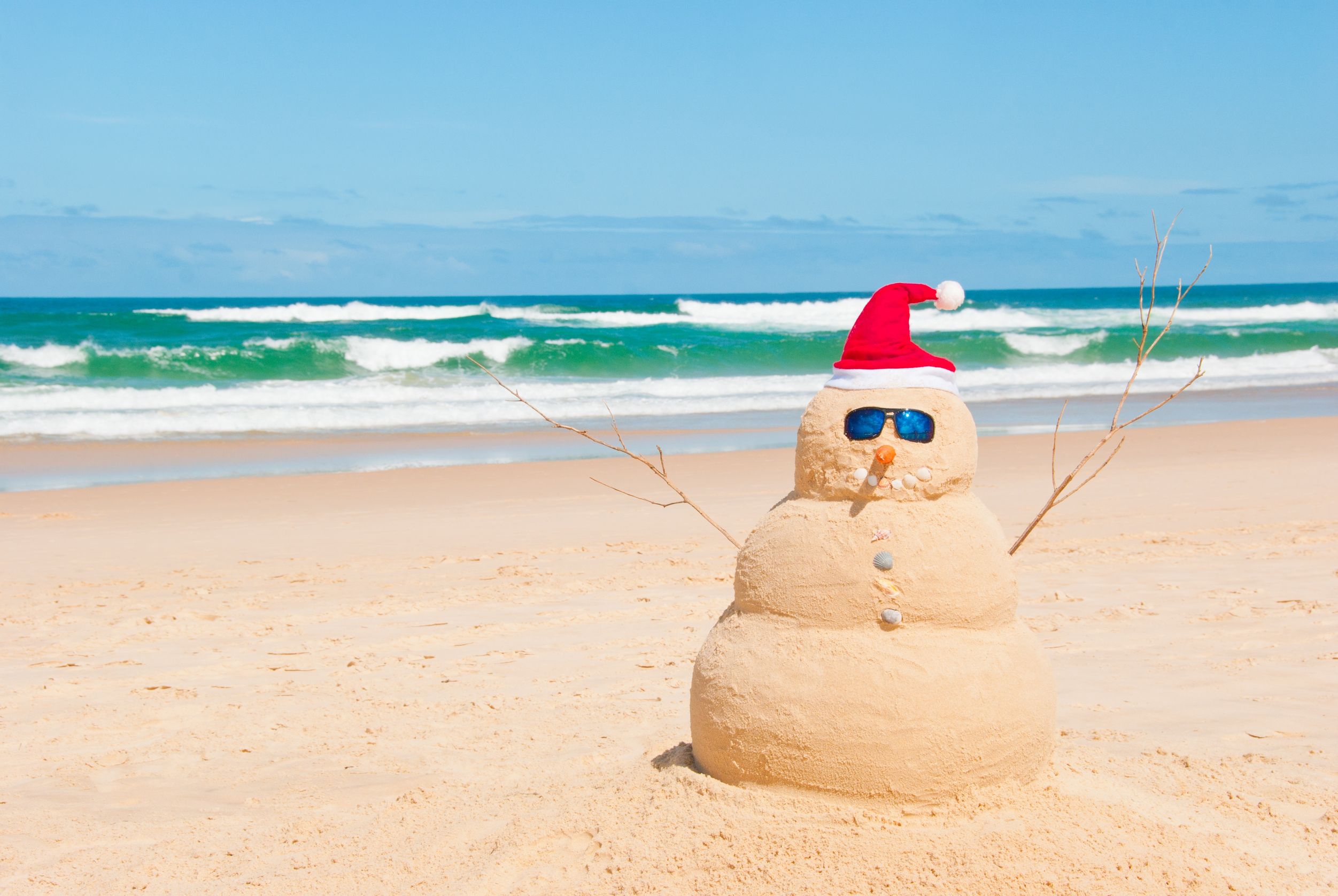 Photo courtesy: 7te.org

Who's expecting to make a snowman out of sand? Or having a Christmas brunch picnic, while taking a sunbath at the same time? Doesn't those sound like a Christmas with summer spirit?
If your skin has touched Bali, thus you should know those things above are simply possible to realize. With shining sun, splendid Ocean view, tropical plants, and clear blue sky, how could you not to be encouraged for Christmas beach day out?
Nusa Dua Beach, Geger Beach, Sanur Beach and Lovina Beach are Bali's recommended beaches for any family escapes. Why? Cause, those beaches have calm sea and low waves that truly fits and safe for kid's activity.
Meanwhile, some of those beaches also owned the best spot for watching sunrise or sunset, so probably the timeline and beach location could be considered for extra pleasure.
List and select some preferred activities to ensure your kids get the excitement. From the sand play, a fun-short surfing lesson, sunbathing, (absolutely) swimming, beach-cycling, kayaking, even preparing a brunch or breakfast picnic by the sea, etc.
Wrapping up those activities with the festive spirit would be a perfect deal. Let's say that rather than making an usual sand castle, we could make an alternative snowman by sand. Or preparing kid's favorite Christmas meal for the picnic ideas could be more fun. A bunch of simple ideas will be coming to mix match your Christmas's beach day plan.
2# No skiing, but water sport is hard to resist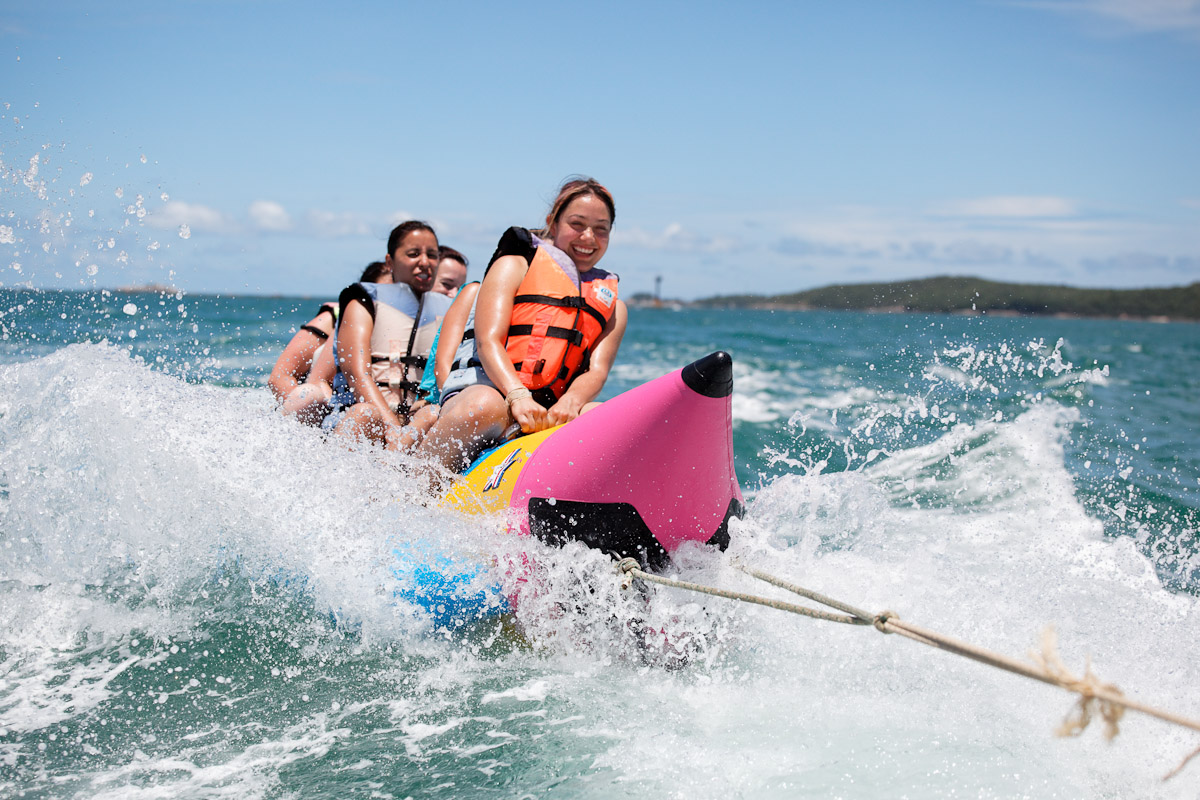 Photo courtesy: bali-99
One colleague or friend told you that he would spend the festive by planning a ski holiday. Now, you should respond to him that you will be joining some fun and adventurous water sport in Bali.
Put "Tanjung Benoa" on your itinerary and you won't lose a fun Christmas sensation with family. It's equally amazing from skiing in the snowy mountains. You'll be treated by a number of exciting water games and play it among a fantastic Island's tropical weather.
From jet ski, banana boat, parasailing, snorkeling, flying fish, scuba diving, glass bottom boat, and many more water games can be found. Many water sport operators with their trained and qualified staff, including security standards are available to be selected.
Only take 25 minutes to reach Tanjung Benoa Beach from Ngurah Rai International Airport or 35 minutes from Kuta and Legian.
If Bali Southeastern's water sport doesn't fit your expectation, thus taking your kids to the popular water-park like Kuta's Waterboom should be an alternative. Various attractive slingshot waiting to be explored. Considering the Christmas, the Waterboom crowd must be increasing rather than regular days. The choice is yours.
3# Sale hunting ritual must go on.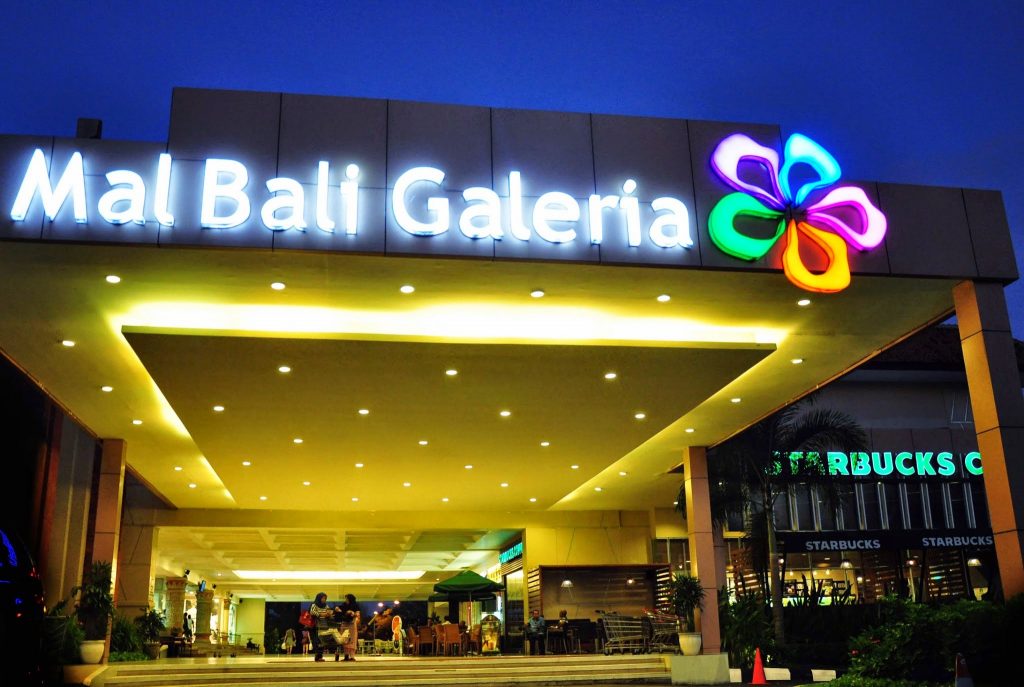 Be honest, what's the most anticipated things for you on Christmas day? Besides Christmas gift and Santa Claus? We bet there was a term of sale, promotion, and discount coming to your mind.
Having a Bali holiday doesn't lose your chance to embrace the heaven of sale. Like an annual global phenomenon, Bali also celebrate the sale enthusiasm.
Almost along the touristy street from Kuta to Seminyak, you may find many shops (from super malls to the small art shops ) offer unbelievable sale up to 90%, mostly for clothing product.
Meanwhile, experiencing Christmas sale is not only about the shopping itself, but there should be an opportunity for a quality bonding family.
For those who hasn't prepared a Christmas gift for kids yet, it's time to hunt it here. Additionally, this occasion doesn't only fulfill any shopping enthusiast, but it would be a playground for your kids to enjoy Christmas decorations managed by any super malls here.
4# In-Villa Private BBQ for Intimate Moment
"Where are we heading for a Chistmas dinner?" must be one of the top question after you decide to spend a festive holiday season in Bali.
Do you think Christmas dinner should be always ending up at the fancy restaurant? Don't you think it will be more intimate, if we could make it private without disturbed by any Christmas's restaurant crowds?
For those who are accommodated at any Bali private villas, why don't you check their in-villa BBQ promotion first? Most of Bali private villas use the festive occasion to promote their special in-villa BBQ.
No need to worry about the preparation. Usually, the villa staff will assist you to setup all ingredients and beverages, and also performs a live BBQ cooking.
Setting up the BBQ grill party in a private place will not only treat the family with a tempting selection of carved meats and the tantalizing accompaniments, but it affects the quality of intimacy between you and another family member.
It will be an extra pleasure if you could book the private villa positioned in a central location, but ensure the secluded environments. A calm and serene atmosphere simply enliven the family moment, while the villa's nearby attractions leads you for the unexpected surprise after BBQ party.
5# Bali Christmas Trip to the West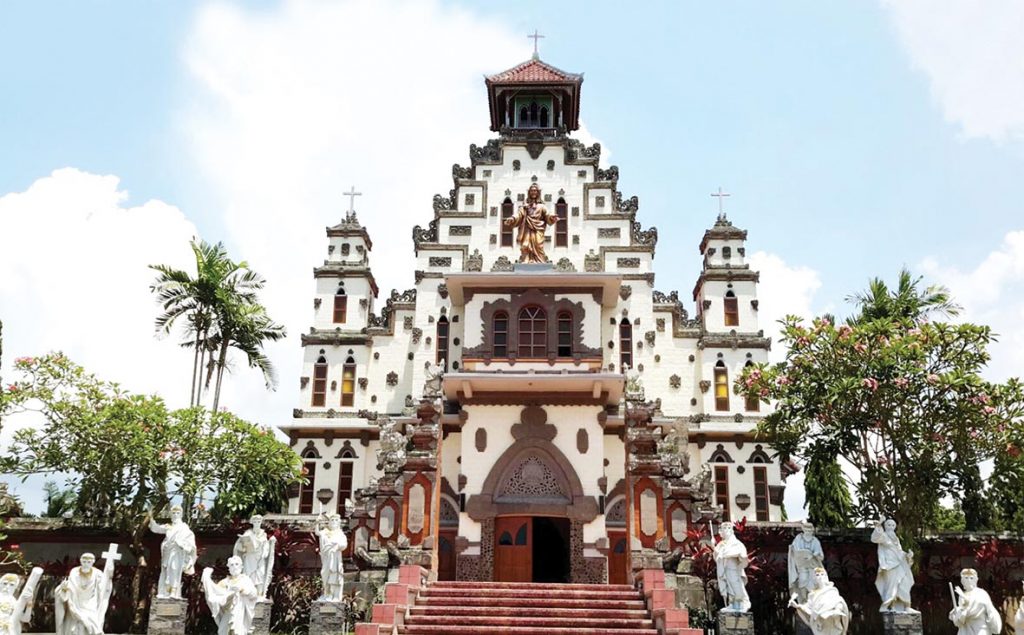 Photo courtesy: sathora.or.id

You probably wonder, does Bali celebrate Christmas religiously? Even though, most of Balinese live in the root of Hindu culture, you still may experience a religious Christmas ceremony by local Christian and Catholics. Uniquely, some of their traditions involve Balinese culture on its celebration.
If your family is really into an exciting cultural trip plan, please go to the west of Bali. Let's visit two traditional villages named Blimbingsari and Palasari located in Jembrana Regency, that celebrate Christmas with Balinese culture.
You would be amazed to find some local Christian wear Balinese traditional costume, the ceremony accompanied by Balinese instrument, people sing and pray in Balinese language at church. What a harmonious acculturation.
Additionally, the churches in both villages offer a distinct architecture that combining European gothic and Balinese traditional ornament, which looks exquisite.
At Palasari Village, you should take a visit to Goa Maria Palasari (The Cave of Mari, Palasari), a sacred place surrounded by tropical forest. For final pleasure, a beautiful Palasari Dam near the church is hard to ignore.
6# Bali, where to dine out on Christmas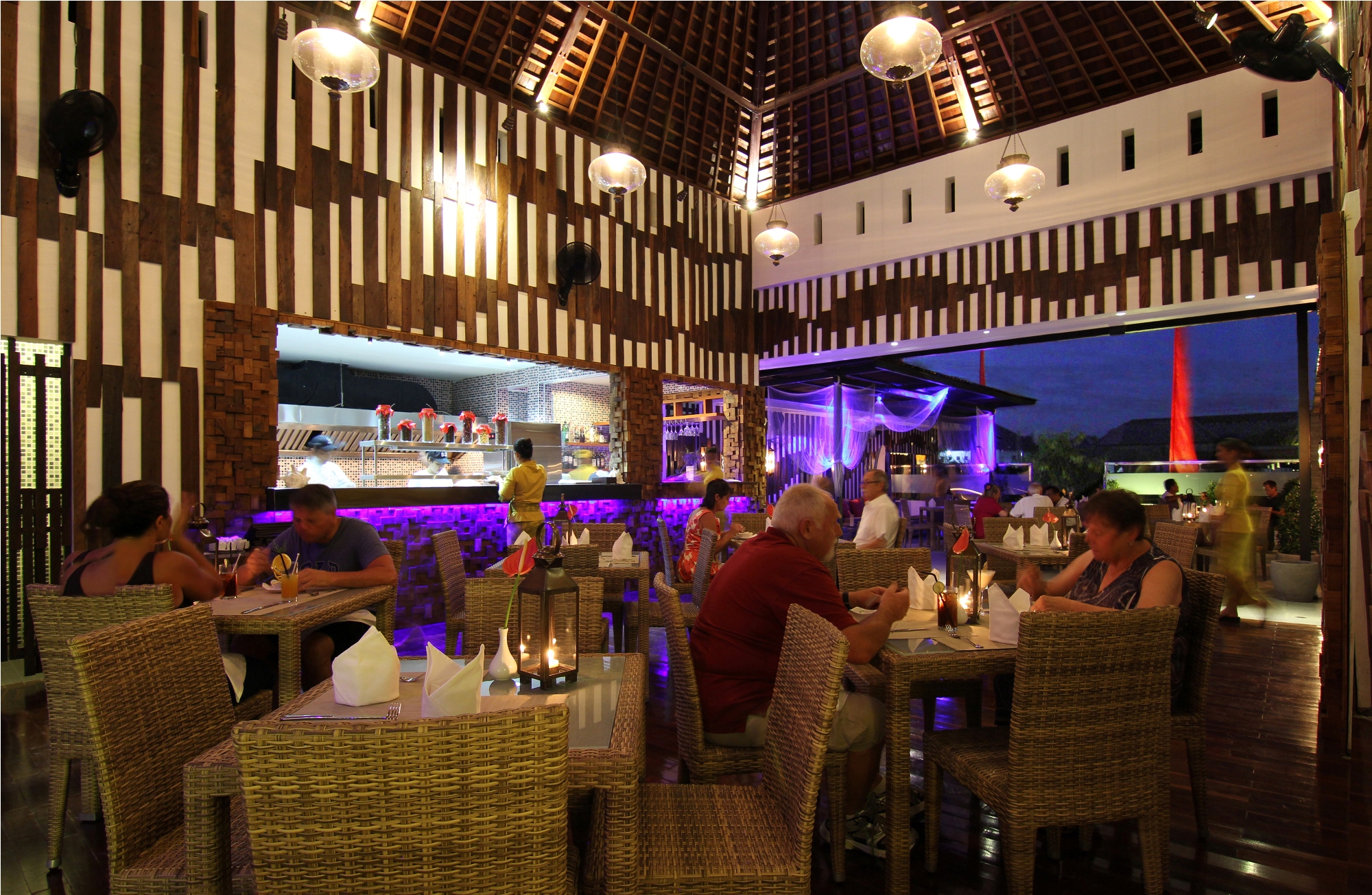 For the festive reason, it's hard to remove the dining out idea with family. Plus, all good promotion offered by many restaurants out there under the Christmas hype is like a magnet. Additionally, considering you are in Bali for the sake of a holiday, it will be a bitter regret to not explore local culinary.
God bless for those who stay in Seminyak, because this district is indeed renowned as an eat-street, where a plenty of restaurant and café with local and International fare are available.
If you are prefer to the more lively ambience and crowds, any restaurants in Kuta and Legian could be on your list. Due to the family needs, the calm and intimate place should be first considered. For the "restaurant with view" enthusiast, Ubud escape could be an ideal choice for your family, where enjoy the festivities with an unbelievable natural view and fancy restaurant concept.
Even though, it will be hard to find traditional Christmas's turkey recipe in Bali, you may explore any new culinary things that rarely to be served on Christmas family dinner. Probably, seafood and Balinese food can be alternative to mark Christmas eve.
After all dining-out idea, you still confuse to compare and decide which restaurant have a better package, rate and place quality. Then, the special Christmas dinner package that usually offered by hotel or villa restaurant (hopefully it's in your accommodation) will save you from the confusing plan to dine-out.  Please choose what surely perfect for your family needs!
=======
So, have you listed any activities to make up your Christmas Holiday in Bali?
If yes, please share your ideas on the comment box below!