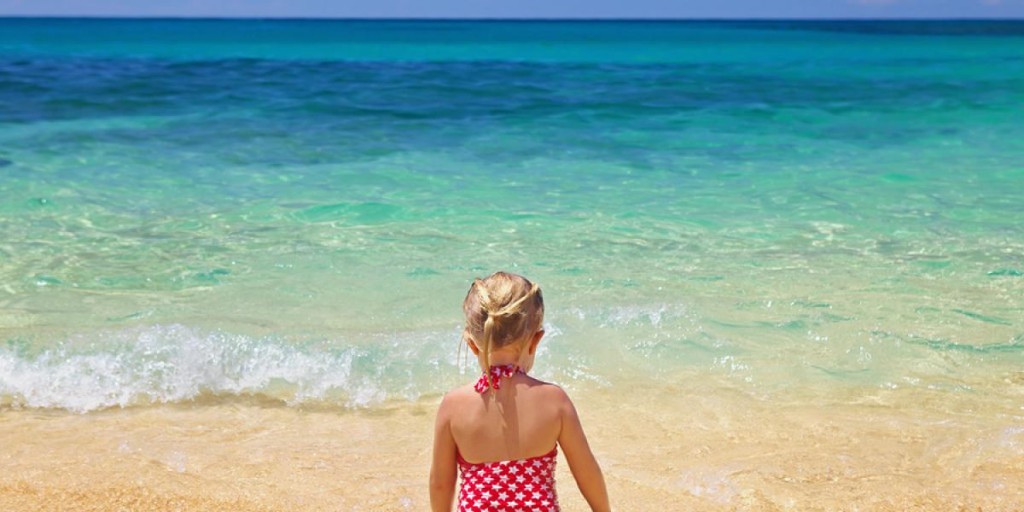 Easter with Bali tropical sensation, why not? | Photo from nickjrparents.com.au
Have you ever considered to celebrate Easter in Bali? Or do you just already plan for that? Bali promises distinctive Easter holiday that probably you've never experienced before. If you expect such a cute egg decorating activity, Bali offers more than that. In Bali, you may find some activities and places that perfectly match on your celebration needs and probably it will be more exceptional and unique to do. From adventurous outbound to the adorable indoor activity, here we suggest five activities to complete your Easter holiday in Bali. Check it out!
1# A golden ticket to enter "Charlie Chocolate Factory" ala Bali
Welcome to Charlie's Chocolate Factory, where you will be greeted with this unique house | Photo from IG @anna_korka
One perfect gift probably makes kids so excited about Easter is no wonder, a chocolate egg. But, if you think it is not quite fascinating to do in Bali, why don't you give a "golden ticket" for them to enter Charlie Chocolate Factory in Bali. Perhaps the factory name reminds you about the famous Johnny Depp's movie entitled Charlie and The Chocolate Factory, but honestly this place doesn't relate to the movie at all. It is not a sophisticated modern factory with massive machine as you imagine. Located only 15 minutes-drive the north of Candidasa district, specifically in the local village named Jasri, the chocolate factory looks exceptional and unique with bamboo structures and thatched roof, surrounded by coconut trees and spectacular beach view. Such a complete package for family retreat, where the place is friendly for adults and kids. Don't forget to buy some local chocolate as gift and experience the awesome swing out front between coconut tree facing impeccable Ocean view.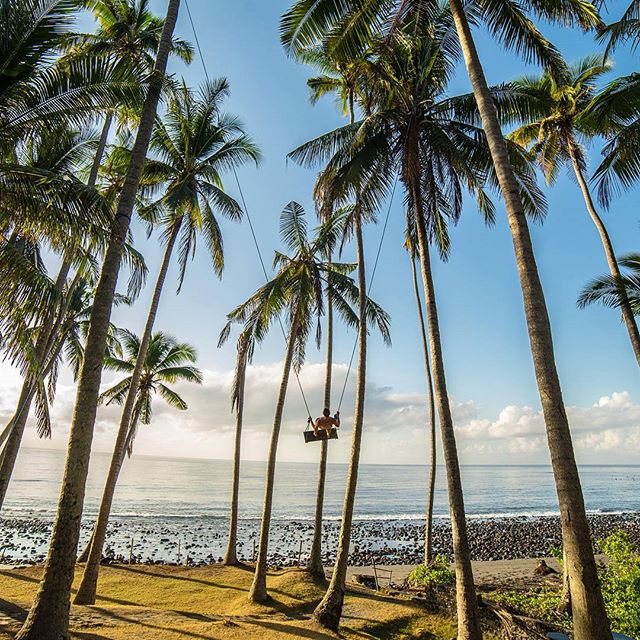 Experience unique oceanfront swing between coconut tree, which is located within chocolate factory area. | Photo from IG @ryanmazure
2# Easter beach picnic with kiddos!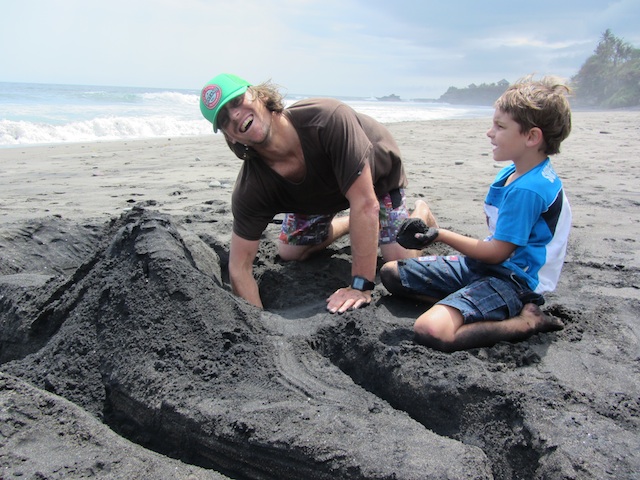 Make a sand castle, while enjoining family beach picnic. What a lovely Easter day out!| Photo from unstucktravel.com
With so many beautiful black and white sandy beaches encircle this Island of Gods, how could you skip the beach day out with your family here? Especially when your Bali holiday is coincided with Easter, the family beach activity will not be the same. Having a small picnic by the sea and invite kids to creatively play with sand will be perfect alternative things to do, instead of decorating Easter eggs. Or improve the idea by making Easter eggs-look alike with beach sand sounds fun and unique. Let's complete it with Easter brunch, where moms could prepare special Easter cakes before the picnic.
If you stay at hotel near Nusa Dua, Geger Beach can be considered for a family beach picnic. With beautiful white sand and calm sea water, Geger Beach looks friendly for kids. For those who expecting Easter by the beach with sunrise sensation, Sanur Beach can be the best recommendation. While, another family-friendly white sandy beach such as Kuta Beach, Batubelig Beach and Double Six Beach can be considered for Easter purpose with sunset experience. FYI, it takes only five minutes-walk from our properties like The Bene Kuta Hotel near Kuta Beach and The Seminyak Suite Private Villa next to Double Six Beach.
3# Being instantly chef family by joining Balinese Cooking Class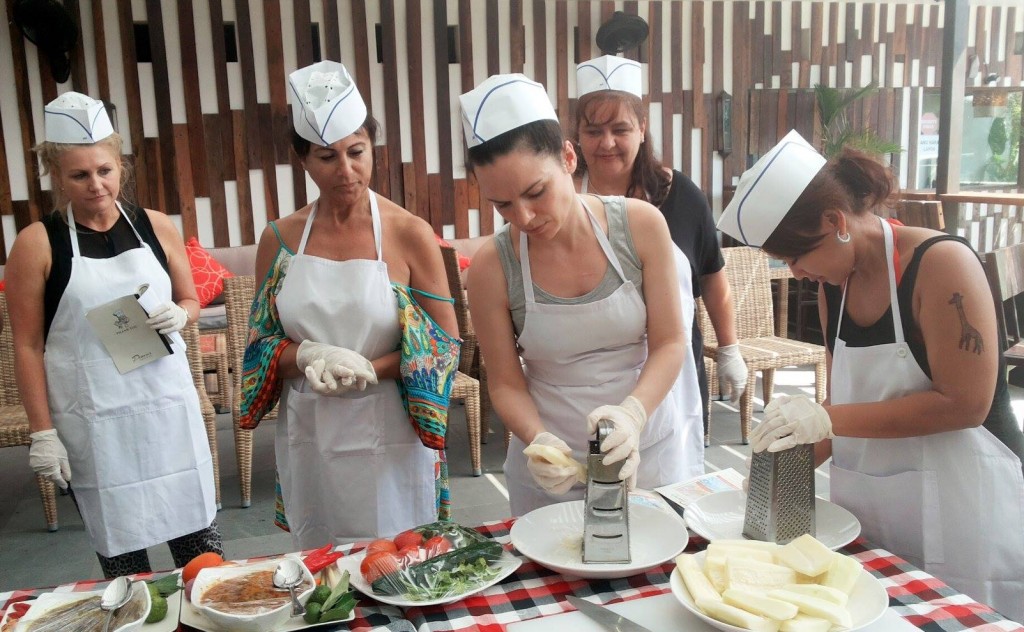 Not only with family, Balinese cooking class will be also fun to do with closest group of friends during Easter holiday in Bali.
Only Moms who always get busy in the kitchen to prepare an abundance of mouth-watering for Easter feast. From tasteful Easter brunch to special family dining, Mom realizes all tempting recipes by herself. It looks like mother's routine almost every single Easter. Why don't we change that situation, while moms and family are on holiday in Bali? Let's invite your kids and their daddy to cook with you for Easter! But it doesn't mean like usual cooking in the kitchen. We recommend you to join a cooking class together, of course with true Balinese experience. So many places offer cooking class program, even from hotel itself. So, it wouldn't be hard for you to arrange this. For example, in Seminyak area, you may find Pencar Seafood and Grill Restaurant opens cooking class program for group. It doesn't need to worry for introducing kids with kitchen utensils and raw seasoning, as long as it is still on your watch. The cooking class ambience simply bonds the family relationship, where parents and kids can be good teamwork while following chef instruction. Easter is well-known by its traditional recipes with ham, lamb, chicken and  sweet desserts. However, mostly Bali cooking class will take you to explore something new flavor to your taste through authentic Balinese recipe. Can you imagine cooking Balinese food for Easter with your family? Why don't you consider it?
4# Pony ride never fails to cheer up kids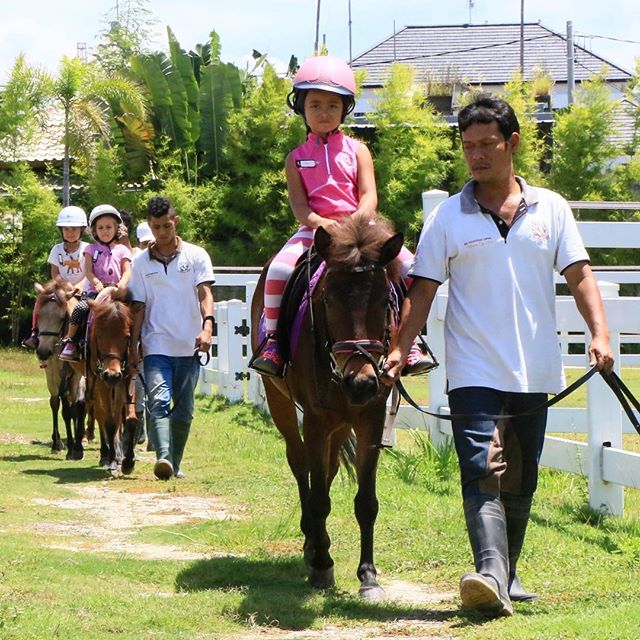 Kids love pony , why don't you invite them to play with these cute creatures in Bali? | Photo from IG: baliequestriancentre
Tell your children about Easter day plan with pony ride and wait for their lovely reaction. Indeed, it will be sweet surprise for them. Imagining that they can play with cute pony; learning how to ride them, saddle them, groom them and care them is such fun things to do around Easter euphoria. It is not hard to find some Bali stable that offering pony ride activity, where Canggu, Pererenan and Ketewel are well-known for the center of horseback riding activity. From our properties like Villa Seminyak Estate & Spa and The Seminyak Suite Private Villa, it takes around 15-30 minutes to reach those places. For example, Bali Equestrian Center located in Canggu particularly provides horseback riding activity, including pony ride activity and fun pony club camp. The kids will totally adore this place. Adults also can take a village tour by horseback riding, where the route passing beautiful rice field and exotic beach. Are you keen to try this with family on Easter?
5# Forget cute bunnies, celebrate Easter among wild animals will be awesome!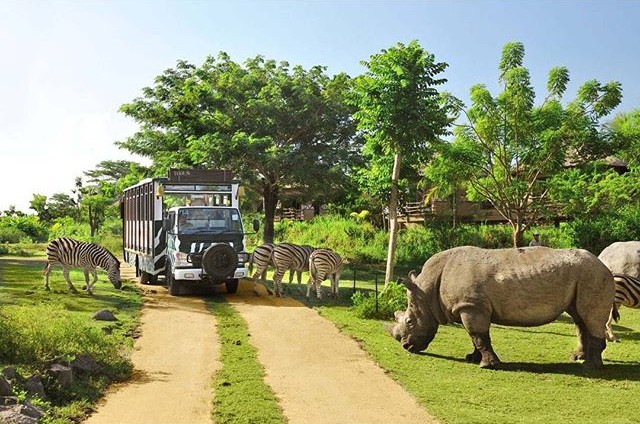 Let's make friends into the zoo on Easter  | Photo from IG @abctour
It's not a bad plan celebrating Family Easter in the Zoo, at least in Bali. Like what Bali Safari & Marine Park does for their visitor, they provide a kind of safari trip into the zoo looks like real jungle. People can watch the animal interaction inside of zoo as natural as the forest life. Over 60 species of animals from any species live in Bali Safari & Marine Park. The zoo creates a real jungle atmosphere Don't worry if the family plans to come at the night, Safari will still guide your trip around the park, absolutely with unique sensation when most of the animals really come to life at the night.
6# Just climb the tree, Easter adventure is about to start!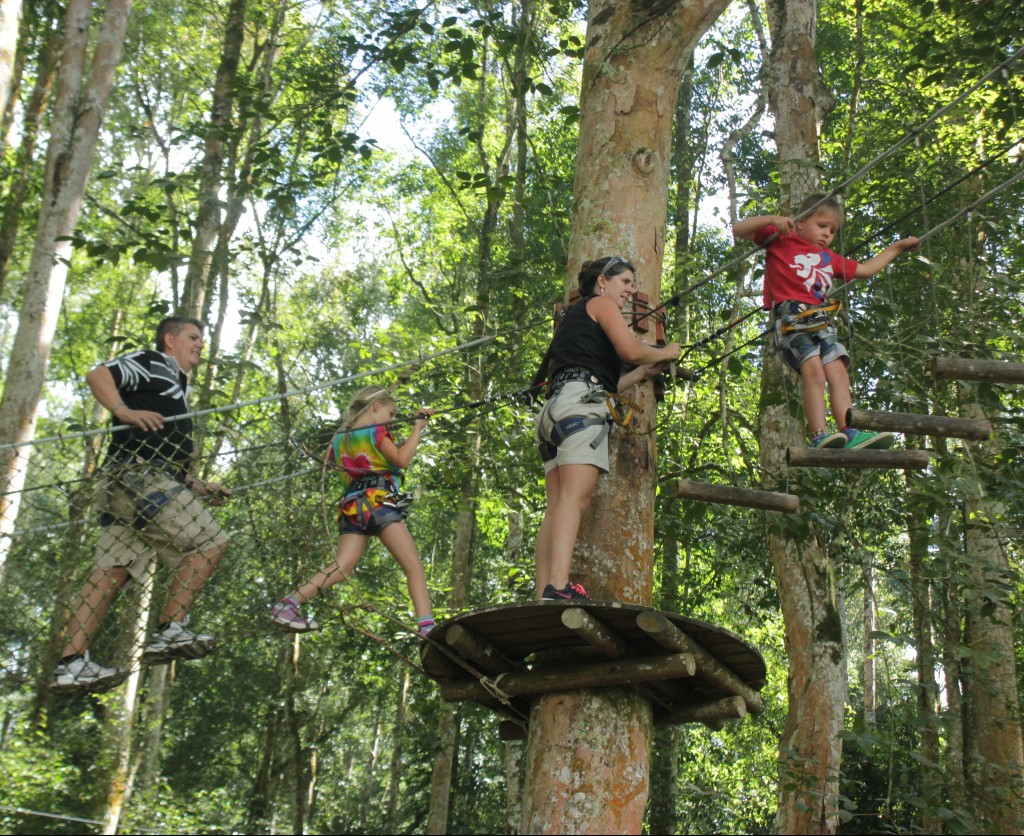 Embrace the best team with family to finish the outbound challenge will be amazing experience | Photo from osiochina.com
Just because Easter day always relates to family gathering, it does not mean the celebration is always about special brunch and diner. As parents, you can give such powerful family togetherness by creating and inviting children to join some educational activity during Easter. Our recommendation goes to Bali Treetop Adventure Park at Bali Botanical Garden, Bedugul, such a perfect place to find adventurous outbound activity that truly safe for kids.
We bet your childhood adventure never far from climbing obsession. It is good to back into your childhood memories and inviting your kids to have same enthusiast. Bali Treetop Adventure Park offers this kind of activity with more fun and education. They make sure your family have fun doing outbound activity with fully International standard safety equipment and watched by their patrol guides. Kids will simply enjoy climbing among the trees without worries. Seven circuits that they offered will be fun challenge for your family to be accomplished. Let's bring some superb adventure with nature into your Easter celebration.
Are you excited to meet Easter in Bali? Is there any possible activity that we missed? Please share your experience on comment section below! We'd like to hear from you.