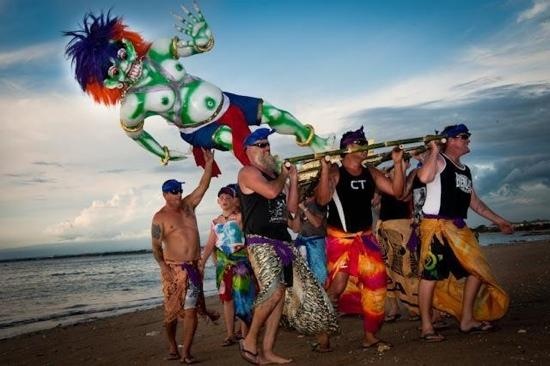 (Tourists/expats carrying Ogoh ogoh for the festival the day before Nyepi, Photo: pinterest.com)
Every year, there are always many events and festivals happening in Bali, from the religious ones to the modern ones. Some people come to Bali not only to see the nature, experience the culture, but also to see and attend some festivals that happen only once a year. There are festivals that happen regularly, there are also festivals happen only once.. Here are events and festival in Bali in 2015:
1. Nyepi – Day of Silence (March 21)
Nyepi or Day of Silence is one of a holy celebrations for Hindus in Bali that is commemorated every year. On Nyepi Day, there will be no activity happens in public area (beach, road, or malls), there will be no light or loud noise allowed from 6 a.m until 6 a.m the next morning. However, hotels and hospitals open on Nyepi Day. There will be Ogoh-ogoh parade a day before the Nyepi Day, parade of statues mostly in a form of demons.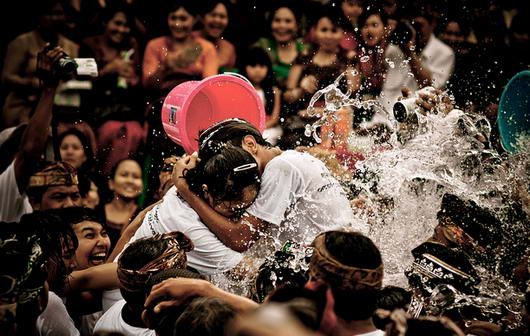 (Omed-omedan, Photo: Dyanira Santoso)
2. Omed-omedan (March 22)
Omed-omedan is kissing ritual held by the young people that happens the following day after Nyepi in the village of Sesetan (Banjar Kaja), 30 minutes from Villa Seminyak Estate and Spa by car. This ritual has been around for at least 100 years and involves unmarried young aged between 17 to 30 years old. The procession begins with praying together, the groups of men and women stand on the main street facing each other then the kissing ritual happens by pushing one female and male youngsters to each other to kiss. When the kissing ritual happens, the other villagers will pour buckets of water to the participants.
3. BaliSpirit Festival (March 31 – April 5)
BaliSpirit Festival is a spiritual event that happens annually taken place in Ubud (around 1.5 hours from The Seminyak Suites by car). This events inspires and unifies global community through yoga, dance, healing and music from all over the world. The events includes workshops, music concerts, healing sessions, markets and many more. There are entrance fee to enter this event and the prices are vary based on packages. For more information, click here to visit to their website.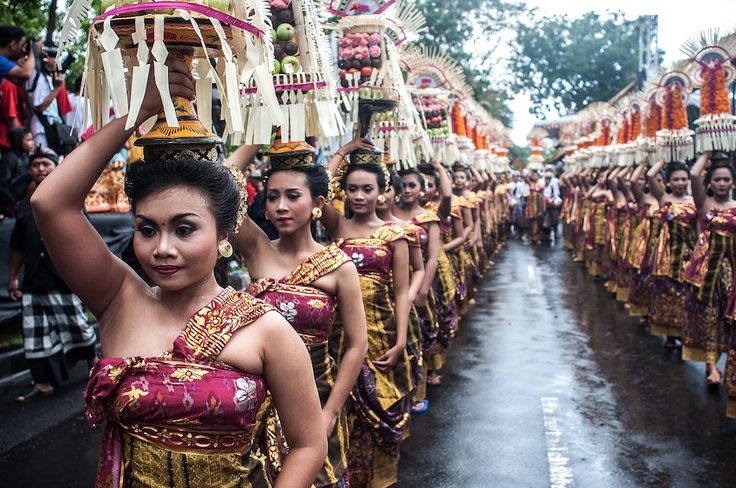 (Girls carrying gebogan on their head on the Bali Art Festival, Photo: ilpost.it)
4. Bali Art Festival (June-July)
Bali Art Festival (BAF) is a full month daily performances happen between June and July located at Bali Art Center in Denpasar to celebrate Balinese art and culture. BAF offers many kinds of attraction and performances such as traditional Balinese dances, plays, musical performances, handicraft, painting exhibitions and many more. The aim of this festival is to keep the Balinese culture alive. It is only 30 minutes away from Villa Seminyak Estate and Spa by car. Free entrance!
5. Idul Fitri (July 18)
Idul Fitri is a a festival of "breaking the fast" celebrated by Muslims all over the world including Muslims in Bali. This festival is not a kind of festival that can be attended. However, the obvious sign of this festival is that there are many people going to the mosques in the morning to pray and Bali becomes very quite. People who are not originally from Bali go back to their hometown to celebrate the festival with their family. Normally many small shops closed during Idul Fitri for about a week.
6. Galungan (July 15) and Kuningan (July 25)
Galungan and Kuningan are the most important festivals for Balinese to celebrate the victory of the goodness over the badness. On these days, the spirits of deceased relatives who have died return to visit their former homes, while the living relatives provide them with offerings and prayer. Galungan last for 10 days and the end of the festival called Kuningan. The obvious sign of these festivals is the penjor, the bamboo poles with ornaments and offerings that decorate roads.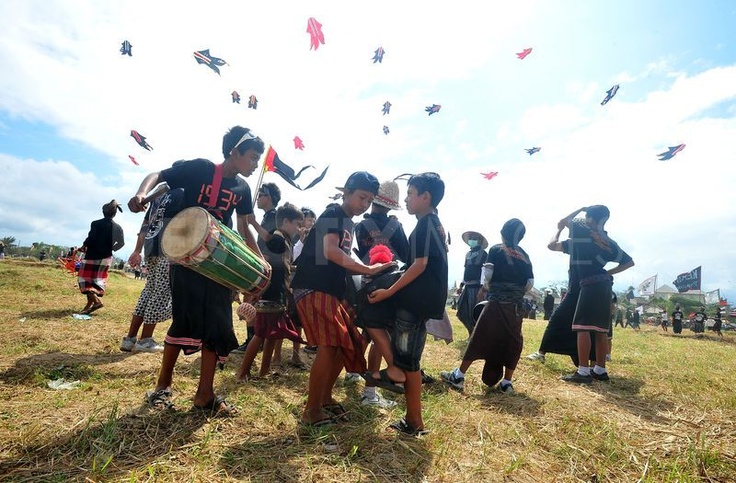 (Bali Kite Festival, Photo: demotix.com)
7. Bali Kite Festival (July)
Bali Kite Festival is an annual international kite festival that normally held in Padang Galak, Sanur. Giant kites (4 meters wide and 10 meters in length) are made and flown by the youngsters of the banjar in every area in Bali in intention to send message to the Hindu Gods to create abundant crops and harvests. Each team consists of 70 to 80 people as kite makers, kite fliers, and gamelan (traditional music instrument) players. Free of charge!
8. Sanur Village Festival (August)
Sanur Village Festival is four to five days festival full of traditional performance like dance and music, water sport activities and also cuisines. This event happens in Sanur at Segara Ayu Beach, inspired by the Marine life of Bali . The aim of this festival is to attract tourist from various countries to enjoy the culture and the Marine activities. Free entrance!
9. Ubud Writers and Readers Festival (October)
A 5 day event involved many leading writers, thinkers, artists and performers from across the globe come to Bali to celebrate knowledge and the arts, education, wisdom and science. This festival offers workshop about books, art program, film program, book launches, cultural workshop, yoga, youth program and many more. This event has become Southeast Asia's largest and most renowned cultural and literary event. There is a fee to entrance this festival, normally the entrance fees are according to the number of days you want to attend.

(2012 Kuta New Year's eve fireworks, Photo: saigonman.devianart.com)
10. Christmas and New Year's Eve (December 25 & 31)
Christmas and New Year's Eve are celebrated similarly all over the world including in Bali. In Bali, Christmas and New Year's Eve also celebrated with dinner, party and fireworks. Normally, most of clubs and bar have special events to celebrate Christmas and New Year's Eve. Local Balinese don't really celebrate Christmas, however, they celebrate New Year's Eve with burning fireworks and firecrackers.
Do's and don'ts:
– Bring plastic bag or water resistance bag to protect your camera if you want to see the Omed-omedan festival because the villagers will pour buckets of water. So, be careful with your electronic devices.
– Since everything will be closed during Nyepi, stock up foods and drinks at your hotel or villa or home to be able not to run out of food. Grocery stores will be super crowded a few days before Nyepi, it will be better to do shopping at least 3 days before Nyepi.
-If you are planning to attend the Bali Art Festival, make sure to attend the opening because there will be parade with many performances.
Do you find this blog useful? If you do, click SUBSCRIBE to be the first one who get the latest blog post!
If you! want to stop receiving the updates in the future, you can unsubscribe at anytime.