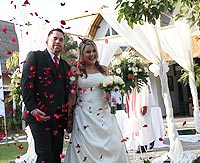 On Saturday, 29 December 2012, Villa Seminyak Estate & Spa was covered with happiness as Justin and Cassey commemorated their mutual love with a devoted wedding in Bali at our Royal Villa. Celebrated in intimate, private processional, this Australian couple has successfully made a vow in our beloved wedding arrangement at the villa.
The wedding's theme was a white wedding as all the flowers decoration and arrangement accentuated with white roses exemplifying a wedding ceremony that was so personal and reflective of the couple. Resonance of a wedding music marked the arrival of the bride as she walked gracefully down a white rose strewn pathway. Every single step brought her closer to the groom who was waiting at the altar with a huge smile and a little nervous feeling accompanied by the priest who would inaugurate the vow in minutes. The two happy beloved persons finally met with a smile as their hands tied and illustrated a fond of shared love, the time for the priest to finally declare them as a happy husband and wife. It was a joyful wedding procession.
A memorable ceremony once a lifetime would not be complete without a perfect place to remember. We escorted them to Seminyak beach for photo documentation as a buggy was booked for the couple to cherish the moment together, nearing the end of a perfect day and the sun was soon to disappear over the distant horizon in a dramatic burst of color. It was a splendid wedding in Bali, indeed..