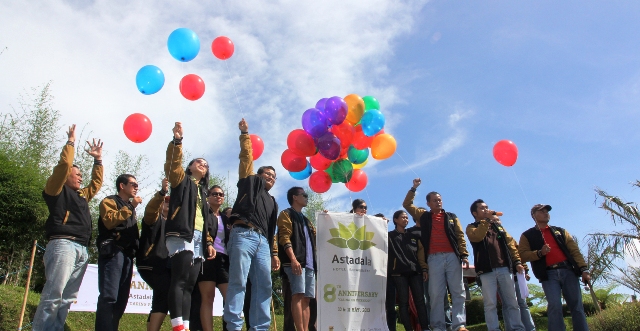 It was the time to cheer and blow candles as Astadala Hotel Management approached the eighth year. Astadala's team members joined an anniversary party at Sila's Agrotourism in Bedugul on May 10 and 11. The occasion was held as an employee outing with games and quizzes that grouped the staff on team building and fun game session.
The event was started with potong tumpeng—a ritual of commencing a ceremony by cutting tumpeng, yellow cone-shaped rice dish like mountain with its side dishes—followed by balloon release, symbolizing a freedom, letting go previous burden, cherish the new beginning. On the entire event, the highlight was a fun game of guessing songs with dancing session featuring DJ Picco—Kedis Restaurant's regular DJ performer.
The celebration in Bedugul was the final celebratory of the anniversary series event conducted by Astadala anniversary team within two weeks. On the previous week it was celebrated with sporty line ups such as futsal and badminton game engaging the front and back office staff as well as a fun bike event in the end of the first week by cycling from Seminyak to Canggu Beach. This staff occasion was held every two-year, gather up Astadala's team to refresh, free away from work stuff, and team up for fun and exciting games.
As the celebration ends, now this is the moment to look forward for better years ahead. Happy anniversary, Astadala!
– – – – –
The following week, a special gift was sent to Astadala as Trip Advisor crowned Villa Seminyak Estate & Spa and The Seminyak Suite Private Villa as the recipients of Certificate of Excellence Winner in 2013. The achievement indicates that the properties are among the top-performing 10% of all businesses worldwide which also signifies that both villas consistently earn high ratings from TripAdvisor travelers.
Astadala's Managing Director Komang Astawa expressed his delight on receiving such recognition. "This is such a special gift on the eight year of Astadala as we always consider Trip Advisor as one of our benchmarks to keep and improve good service to guests. As we know, Trip Advisor's readers and reviewers are well-traveled and accustomed to good services and products, and therefore have thorough decision when it comes to valuable service. We are thrilled to be listed among the top properties and we thank all guests for their support."
This is a consecutive achievement as in 2012 both villas also received the same recognition. An appreciation from a top travel website will be such encouragement for Astadala family to be optimistic in providing the best service in Bali, especially with the opening of The Bene, Kuta and The Haere, Seminyak this year.