As the annual Kuta Karnival attracted many visitors, this year, the carnival was held again for five days from October 10 to October 14, taking "A Celebration of Life" as its theme with somewhat similar events as last year's like turtle release and paddle for peace event. Celebrated by Bali surfing community annually, paddle for peace was a tribute to the victims of Bali bomb tragedy in which they paddled along out to the sea with garland on the neck.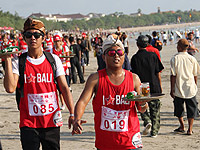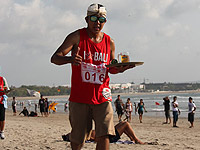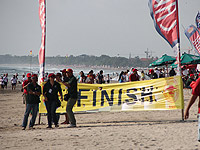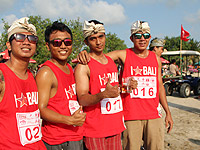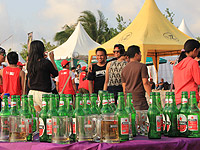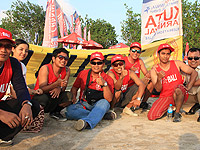 We took part on the festival as we joined one of the events; waiter race. Waiter race was a competition held by Indonesian Food and Beverage Executive Association (IFBEC) that invited about 200 waiters from restaurants, bars, and hotels in Kuta and other areas in Bali. As that in mind, this competition reminded much to marbles race or sack race where those waiters contended each other to reach finish line the fastest but they must hold a tray with a bottle of the famous Bintang beer poured to the glass, and must not be spilled during the run or walk. Interestingly, they started from Segara Temple in Kuta and ran along the beach about two kilometers to the finish line brought though fun thing to notice where some of them being disqualified for spilling the drink out of the glass.
Our team did finish the race but was not the first one to reach the finish line. It was one of a fun time during the festival and we had a good time all around. Definitely would join again next year.
[authorsure_authors]