Pencar Seafood and Grill has been awarded as the Best Seafood Restaurant in Bali.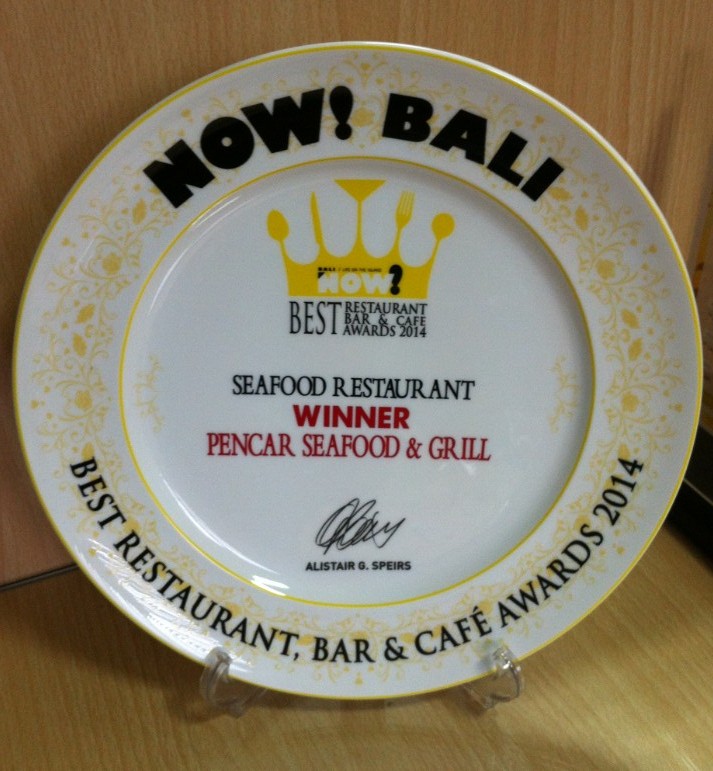 It is such a great achievement for Pencar Seafood and Grill to receive an award as the best Seafood Restaurant in Bali from Now Bali  on Bali Best Restaurant Cafe and Bar Award 2014. Over 37,000 people voted in 20 categories according to the type of cuisines served in the restaurants. In one and a half months voting period, Pencar Seafood collected more than 5,000 votes far more than 2 other seafood restaurant participants. The votes placed Pencar Seafood and Grill on the first place and awarded as the winner of The Best Seafood Restaurant in Bali.
Bali Best Restaurant and Bar awards 2014 by Now Bali was held on 13th November 2014 at the Bali International Convention Center (BICC), Nusa Dua. This award was attended by more than 60 participants of restaurants in Bali who joined this award. From 20 categories, there were 3 winners (third, runner up, and winner) for every categories. There were also 5 categories for Editor's choice. This event aims to recognize Bali best restaurants which was a great way to support them to improve and to better.
(Alistair Speirs with 2 winners of Best Seafood Restaursnt, photo: Now Bali!)
Hopefully, Pencar Seafood and Grill will still be the best Seafood restaurant in Bali and keep the first place for many more awards in the future.
Do you like this post? If you do, SUBSCRIBE us to receive email notification of new post and be the first one who read it!
If you wish to stop to receive the email notification in the future, you can simply unsubscribe it at any time.