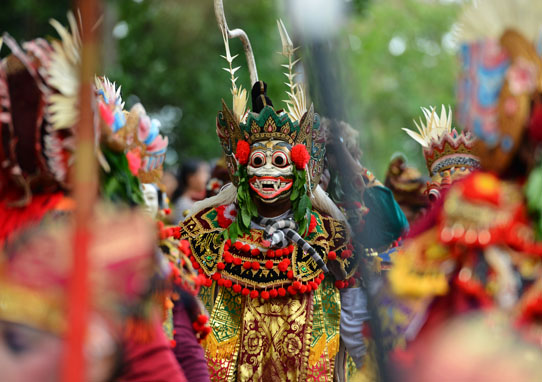 (A participant dressed in Balinese costume with a mask (topeng) during the Grand Parade of Bali Arts Festival. Photo credit: Agus Kurniawan)
Each year, Bali has an annual art festival that is centered on its capital city, Denpasar. This year, the 36th Bali Arts Festival or known locally as Pesta Kesenian Bali will be held from June 14th to July 12th, 2014. The theme of the festival this year is "Kertamasa", depicting the dynamics of the Balinese agrarian community in reaching universal prosperity and welfare. It's a festival that worth a visit for those who's interested to know more about Balinese arts and traditional performances as well as other Indonesian cultures and international participants that take a part in the festival.
What's the festival all about?
This a-month-long festival will show daily traditional art performances from 9 different areas in Bali, 8 regencies and 1 capital city where each area will perform their unique traditional arts or their new modern creation. Not only that, some art performances are also being competed with an annual trophy which is considered as a prestigious achievement for the winning regency.
The festival firstly introduced in 1979 by the Bali's governor, Prof. Ida Bagus Mantra, and it was originally designed as the basic forum for the growth of love of the arts, where people can celebrate it in the most accessible public area. Bali Art Center, the cultural complex designed in Balinese architecture which houses a museum of artifacts was chosen as the place since then. As it becomes, the festival is no longer a celebration of arts alone but it is also a place for many locals to gather and see it as an alternative attraction for weekend recreation where in the evening there are art performances to see, the handicraft and food stalls are opened from morning till night.
Who will participate this year?
The opening day of the festival is celebrated in a grand scale, as it is known as Grand Parade. This year the parade starts at the Bajra Sandhi, a monument in Renon, Denpasar that is built as a memorial of Balinese struggle against Dutch colonialism, with the parade ends at the Bali Art Center. At this opening day, annually the president of Indonesia is invited and will open the festival officially. On the parade, each regency is represented with their special kind of art from their area where gamelan orchestra will enliven the event as people dressed in their traditional Balinese dress.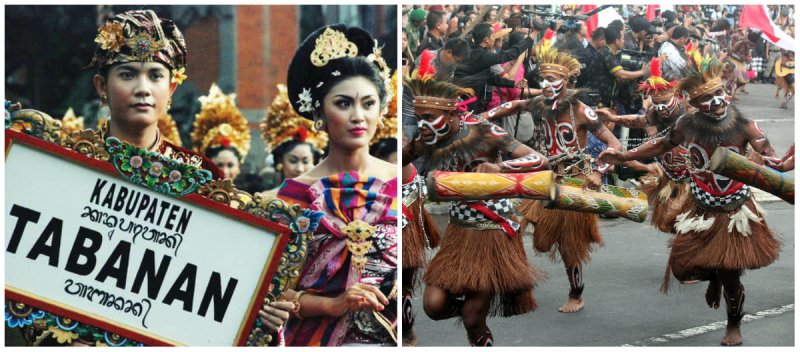 (Left: a participant holding the signpost of "Tabanan", one of regencies in Bali. Right: the participants from Papua on the Grand Parade last year. The crowd of photographers and spectators can be seen in the bakcground. Photo credit: Kama Dwipayana & Wisnadi Tyaga)
Each year, it's not only Bali areas that are involved in the festival but plenty of participants from others areas, both national and international come to participate. This year, some cultural departments that partake in the event are from Palangkaraya, Bantul, Gunung Kidul, North Jakarta, West Bandung, West Kalimantan, Lombok, Banda Aceh, Yogyakarta, Bima city of Sumbawa, Jember, and Blitar. International participants that will perform this year include Japan and USA.
After the parade, the entire festival will be held at Bali's Art Center or locally known as Taman Werdi Budaya Art Center in Denpasar where all arts performances will be sprinkled on six different stages, namely Ardha Candra Open Stage (an amphitheater mostly for Sendratari ballet which can hold up to 6,000 spectators), Ksirarnawa Stage, Ayodya Stage, Ratna Kanda Stage, Wantilan Stage, and Angsoka Stage. Each day the Bali Art Center will showcase 6-8 performances spread at those stages, and most importantly, they are free of charge to the public and for some shows where ticket is needed are sold at affordable price.
What arts and culture performances to see this year?
Grand Parade
Saturday, June 14, 2014,
Venue: Bajra Sandhi Renon Park, Denpasar
Time: at 3:30 pm.
Although it is televised on local TV (Bali TV or TVRI Bali) but watching it live will be a different experience. If you're interested to see the parade live, do get to Renon Park early in order to get the front row or the best spot possible to see the parade as the crowd will flock the park that day. Bring hat or an umbrella as the heat might be too much during the day.
Opening Ceremony
Saturday, June 14, 2014
Venue: Ardha Candra amphitheater, Bali Art Center, Jl. Nusa Indah, Denpasar
Time: 8.00 pm
The ceremony will be opened by students and lecturers of Indonesian Arts Institute (ISI) Denpasar which will present an oratorio, a colossal dance entitled 'Bali Dwipa' that includes percussion and gong orchestra.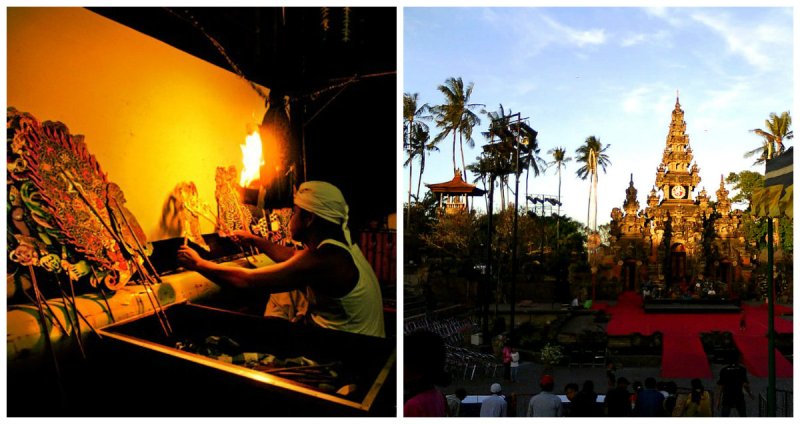 (Left: A young puppeteer is performing on stage as a part of Children Shadow Puppet competition. This is one of competitions during the festival where it invites young puppeteers from around Bali island to compete each year. Right: the Ardha Candra stage, the largest stage in Bali Art Center where it places as the main venue for the opening and closing ceremony of the festival. Photo credit: Made Yudistira and Gandarini)
Children Shadow Puppets Art Competition
June 15-21, 2014
Venue: Wantilan Stage, Bali Art Center, Jl. Nusa Indah, Denpasar
Time: 8.00 pm
A competition for young shadow puppeteers who represented their home regency. Shadow puppets is the most popular puppets show in Indonesia where it depicts the story of Ramayana and Mahabharata and it's accompanied by gamelan orchestra.
Female Gong Kebyar Exhibition
June 16, 2014
Venue: Ardha Candra Open Stage, Bali Art Center, Jl. Nusa Indah, Denpasar
Time: 8.00 pm
Gong Kebyar is a gamelan gong orchestra that usually requires 25 musicians to perform. The gong kebyar consists of wide-ranging repertoire of instrumental and dance music, blending styles and techniques from other gamelan types. There are some gong kebyar exhibitions during the festival this year including children and adults performers. Please check the schedule for more details information.
Arja Performance
June 25, 2014
Venue: Wantilan Stage, Bali Art Center, Jl. Nusa Indah, Denpasar
Time: 8.00 pm
Arja is a genre of Balinese drama stage that blends opera and ballet. Arja is considered to be extremely demanding, because performers must be first class dancers, singers, and actors at the same time. This Arja performance will be performed by Arja Putra Jelantik Arts Comunity from Apuan Village, Bangli Regency.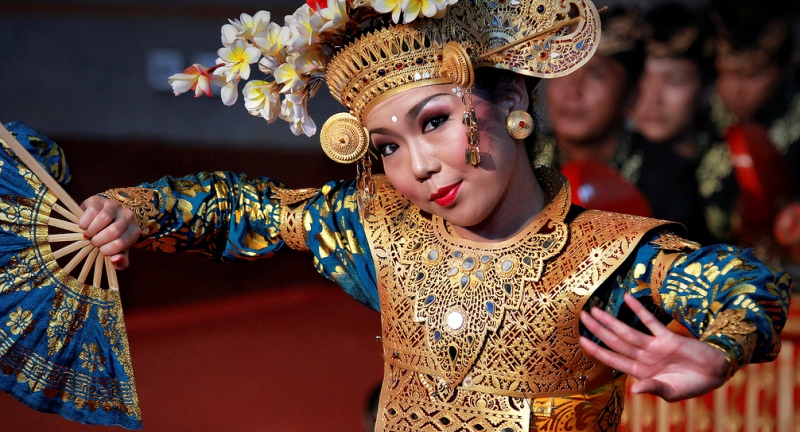 (Legong dance performed by a Japanese from Basundhari dance studio at Bali Arts Festival last year. Bali – Japan collaboration has been performing routine on the festival, including this year. Photo credit: Made Suwita)
Barong Bali and Barong Sae Dance Performance
July 7, 2014
Venue: Ayodya Stage, Bali Art Center, Jl. Nusa Indah, Denpasar
Time: 5.00 pm
Dance collaboration of Barong Bali, a lion-like creature in the Balinese mythology with Barong Sae, a dragon-like creature. The dance will be performed by Paripurna arts group from Bona village, Blahbatuh sub-districts of Gianyar Regency.
Foreign Participation (Japan) by Wiryahita Studio
July 10, 2014
Venue: Wantilan Stage, Bali Art Center, Jl. Nusa Indah, Denpasar
Time: 8.00 pm
Bali – Japan collaboration performed by Wiryahita Studio.
In total, there are more than 130 art performances and competitions during the festival from handicrafts competition, Joged Bumbung (a fun and somewhat flirtatious Balinese dance), baleganjur (Balinese traditional music) competition, Topeng (Balinese mask dance) performances, painting and coloring contest, documentary movies screening, contemporary art performances, and many others art shows including some performances from national and international participants.
To view the entire schedule of the Bali Arts Festival 2014, you can download it here.