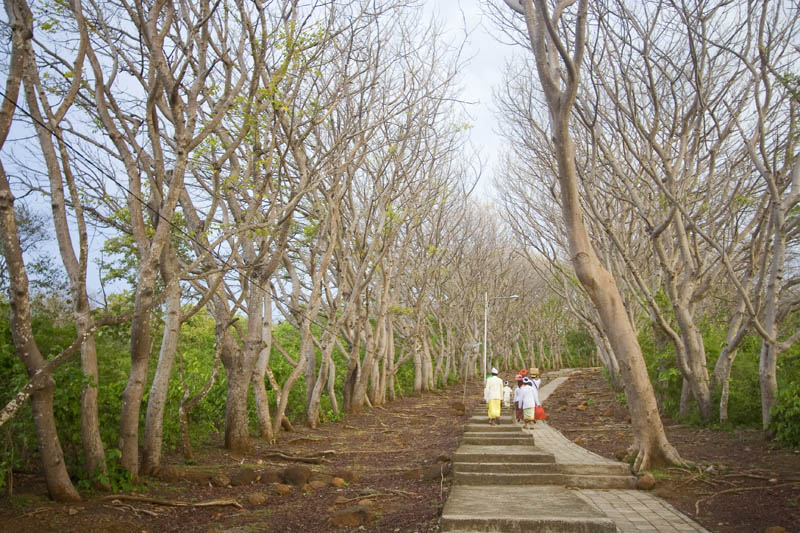 (The steep concrete onto the gravesite of Jayaprana and Layonsari in Teluk Terima. Wild plantation can be seen on the right and left side. Photo credit: Yunaidi Joepoet)
It's Valentine's day, one of a long live popular tradition celebrated by people around the world. Bali is no exception, as many travelers love to spend their romantic time, like a honeymoon in Bali with their beloved one in this beautiful island. But, have any of you heard a local story that suits for the day? Well, you might have read or heard the popular story from William Shakespeare, Romeo and Juliet, which was well known as a romantic story and even a symbol of true love albeit its tragic ending. Here, in Bali, there's a similar legend about a tragic true love story which is also believed to be truly happened some centuries ago. The story is often compared as the Balinese version of Romeo and Juliet.
It's the story of Jayaprana. A boy who lived in a small kingdom named Kalianget (now, a village in Buleleng). Once upon a time, the entire kingdom was plagued by a deadly disease that killed people in the kingdom along with the king's children. Jayaprana was then found and adopted by the King of Kalianget after he saw the boy mourned over the loss of his parents in the village. Long story short, he was raised as a king's son, where he grew as an attractive adult. He was still very down to earth and befriended little people. On one lovely day, he met a beautiful girl who sells flowers at the local market, named Layonsari. He fell in love with her at the first sight, so did her. Soon after, in their burning romance, they decided to unite their love in a marriage. The King was happy and agreed. He threw a big and glorious wedding ceremony for his son.
It was totally unexpected that after the marriage of his son, the King was so besotted by the beauty of Layonsari that he realized he slowly fell in love with her. The feeling grew very strong, and it led to a vicious decision that the King had to get rid of Jayaprana to make a room for him to get Layonsari. With his scheming plan, the King then commanded Jayaprana to lead the troops to the forest near the sea to extrude some pirates who came to disturb the peace in the kingdom. He ordered Patih Sawung Galing to accompany him, whom the king secretly commanded to kill Jayaprana.
In the woods, Patih Sawung Galing tried to kill Jayaprana in a fight with every single possible way. But, Jayaprana was immune to any weapons and to every deadly effort that Patih Sawung Galing tried to do to him. Yet, Jayaprana still confused, then asked him as to why Patih Sawung Galing tried to kill him. Patih Sawung Galing finally told everything about the King's plan to posses Layonsari in any possible way, which was the main reason that Patih Sawung Galing has to kill him, as per King's order. Jayaprana was immediately shocked and sad that his father planned to betray and kill him. However, his loyalty to his father led Jayaprana to remove all the flowers in his head and also he gave up his weapon, a keris, to Patih Sawung Galing. Both were amulet and sacred weaponry that made him immune to any injuries. Patih Sawung Galing then stabbed him with the keris. Miraculously, the dead body of Jayaprana was spreading out a fragrant scent throughout the forest. It leads the entire living animal in the woods to cry and mourn over him. Except for a white lion which then angrily rushed and attacked Patih Sawung Galing to death.
The news of the King's setup and the death of Jayaprana and Patih Sawung Galing were narrated by the remaining troops to Kalianget. Heard by Layonsari, she was suddenly felt terribly horrified and sick by the king's betrayal to Jayaprana. The King still chased her and forced her to marry him, which Layonsari could not approve. She then decided to kill herself. Just like Jayaprana, her corpse also has a fragrant scent. The body was then sent to forest by the people of Kalianget who wanted to bury her near her true love and beloved husband, Jayaprana. Until today, the gravesite was known as a temple and familiarly known by Balinese as Pura Teluk Terima.
The story of Jayaprana and Layonsari is not just a story about romance, but also can be seen as a portrait of greed and betrayal that leads to a tragedy. The ironic loyalty that Jayaprana showed to his father and the faithfulness of Layonsari to her husband are also things that are interesting to be thought.
Trivia:
The original name of Layonsari was actually unknown. People named the Jayaprana's wife as Layonsari after the word 'layon' which means 'dead body' and 'sari' which means 'fragrant scent'. It referred to how her corpse spreads out fragrant scent when it was sent to the forest.
Factual evidence: Most of Balinese people believe that this is a true story although Balinese historians have not found any evidence to prove it, except the existence of the grave.
The kingdom: Kalianget is now a small village with mountain and beaches in the northern part of Bali, Buleleng Regency, where their livelihoods are mostly farmers (rice and grapes) and fisherman.
The gravesite: Teluk Terima, which means 'The Bay of Acceptance', is the place where the grave is located and has been visited by people. The gravesite has been used as a public temple for the last 20 years; with the main grave are the Jayaprana and Layonsari, and a temple dedicated to Patih Sawung Galing on the outside.
How to Get There and Nearby Attractions:
The gravesite is in the area of Sumber Klampok Village which can be reached around 4 hours driving from your villa in Seminyak, through the Bedugul route. The Jayaprana gravesite is set on the hill in West Bali National Park where people have to climb up the steep concrete steps from the south side of the main road. It is 1 kilometer from the port of Labuhan Lalang which leads the way to visit Menjangan Island. From here, you can see the Sea, Menjangan Island, and Mountains of Eastern Java.
————-
Valentine's Day is approaching. Have you planned anything special or new for the day? Maybe you hardly come up with an idea to please your loved one. But, don't worry. Love will always find its beautiful way. Happy Valentine's Day!