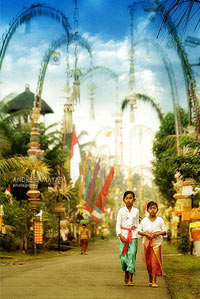 Galungan festival is one of the most celebrated events by Balinese, as it is an inimitable 10 days festivity philosophically commemorates the triumph of Dharma (good) over Adharma (evil). Balinese believe that Gods visit their living descendants on Earth to mark this occasion with ceremonies involving elaborate offerings, food and dance, and depart on the tenth day, which is known as Kuningan day—the final day of the festival which brings events to a close.
During this festival people would encounter flimsy bamboo poles on every byway and highway and outside virtually every Balinese home that adorned with, paddies, white and yellow fabric, fruit, flowers and coconut leaves, as they fluttering aimlessly in the breeze. These poles are known as "penjor" in which a symbolization to the existence of Mount Agung—the highest place in Bali as it is believed to be the place of all Gods. The decoration with paddies and others plantation is a representation of prosperity for the land of Bali.
The tradition of this festival is started with series of ceremonial ritual. Penyekeban, the day when villagers start ripening bananas for Galungan offerings; Penyajaan, it is the next day where Balinese start to make rice cakes for offerings; Penampahan is the day before Galungan when animals such as pigs and chickens are sacrificed for offerings as the meat knowingly used to make traditional spicy such as lawar, satay, jackfruit, dozens of herbs and spices. This is also a day when penjors will be erected. On Galungan day, people dress up in Balinese costumes (women with kebaya and men with udeng), visiting temple to pray in the early morning with the offerings prepared before as it also the day to meet big family from the same descendants. The following day, Manis, is the day to visit friends and others family members as it also the occasion to taking a rest from a busy festival.
Kuningan day is ending the festival. Whilst Galungan on Balinese calendar falls on Wednesday every six month, Kuningan is celebrated on Saturday in the following week. The tradition of Kuningan is practically similar to Galungan as Balinese people go to temple and pray in the early morning but unlike Galungan, all ceremonial tokens of appreciation must be performed before 12 noon to farewell the spirits as they depart from the Earth.
Photo by Andre Ramayadi