Summer Special: Experience a brand new hospitality in Seminyak at The Haere
November 24, 2014 – 11:00 am by
bliss
in
Yummy!
Bali is well known not only of its beaches, traditions and culture, but it is also well known of its traditional foods. Coming to Bali without trying the traditional foods is like going to the beach without swimming or sunbathing. There are many kinds of traditional foods that you can try in Bali. However, there are 8 traditional Balinese foods you must try.
(Babi guling and lawar, photo credit by: wikipedia.com)
1. Babi Guling
Babi Guling a very popular Balinese traditional food served in Balinese restaurants or local warungs. Babi Guling (English: Suckling Pig) is pig roast on fire that normally served with lawar and steam rice. The Balinese love Babi Guling, not only as the food, but also the activity of cooking it. Babi Guling is also included in many ceremonies as an offering. It is not hard to find Babi Guling in Bali, most of the local Balinese warungs serve it. One of the famous restaurants that serve Babi Guling is Warung Bu Oka in Ubud or warung Babi Guling Pak Malen in seminyak, 15 minutes walk from or The Seminyak Suit.
(Balinese women carrying Gebogan – photo credit: Nat Stravers Photography)
As we may know, Thanksgiving is a national holiday celebration in United States. It is celebrated on the fourth Thursday of November. The meaning of Thanksgiving itself is a day of giving thanks for the blessing of the harvest of the preceding year. The history of Thanksgiving is the event that Americans commonly call the "First Thanksgiving" was celebrated by the Pilgrims after their first harvest in the New World in 1621. This feast lasted three days, and it was attended by 90 Native Americans (as accounted by attendee Edward Winslow – the separatist who traveled on the Mayflowers) and 53 Pilgrims. Thanksgiving is one of the major holidays of the year. Together with Christmas and New Year, Thanksgiving is a part of the broader holiday season. Normally, Americans celebrate Thanksgiving in a way of gathering with family member watching "Macy's Thanksgiving Day Parade" or watching football on television while enjoying stuffed roasted turkey with cranberry sauce.
Thanks giving is celebrated differently in different countries. Many different nations have their own way and reasons for dedicating a day to gratitude. From Mooncakes in China and Vietnam, to a festival honoring yams in Ghana, a number of countries around the world have unique traditions to celebrate the harvest. What do people do in Bali for "thankgiving"?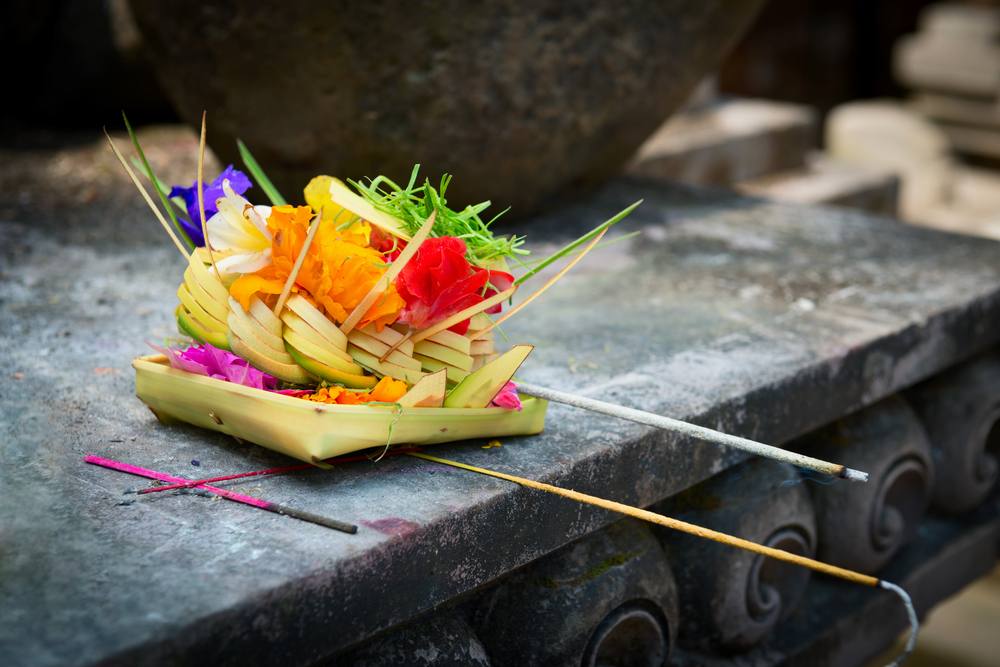 ( Canang Sari – Balinese offerings with burning incense- Photo credit by: http://blog.icbali.com )
When you walk around in Bali while enjoying your holiday, you probably see at least one small square or round palm leaf made, filled with colorful flowers lying on the ground either in front of houses, shops or temples. Those things called Canang Sari, daily Balinese offerings.  The phrase Canang Sari is derived from the Balinese words sari means essence and canang means a small palm-leaf basket as the tray. Canang Sari is the symbol of thankfulness to the Hindu god, Ida Sang Hyang Widhi Wasa. It is offered every day as a form of thanking for the peace had given to the world.
Tags: balinese offerings canang canang sari offerings