Spa has been a growing trend recently as a destination for people who seek for wellness treatments, whether it is for medical purpose, fitness, holistic or just to relax. Many spas all over the world, including in Bali offer their best treatment. There are hundreds of spas in Bali and every one of them has their own specialty in satisfying their customers, and to make them coming back, especially the luxury ones, not to mention Lagoon Spa Seminyak.
Going to a country where not everyone speaks English sometimes causes some small trouble in communication. Therefore, learning some common words and phrases of the local language is important. This also applied in Bali.
Probably, some of you may don't know that Bali is an island located in Indonesia, a country located in South East Asia. It has more than 17.000 islands and some of them you probably have heard before. There are 5 main big islands and many other small ones, Bali is one of the small ones. The national language spoken in Indonesia is Indonesian, which well known as Bahasa Indonesia, Bahasa means language. Bahasa Indonesia is also spoken in Bali as well. The local language is Balinese, however, most people communicate using Bahasa Indonesia.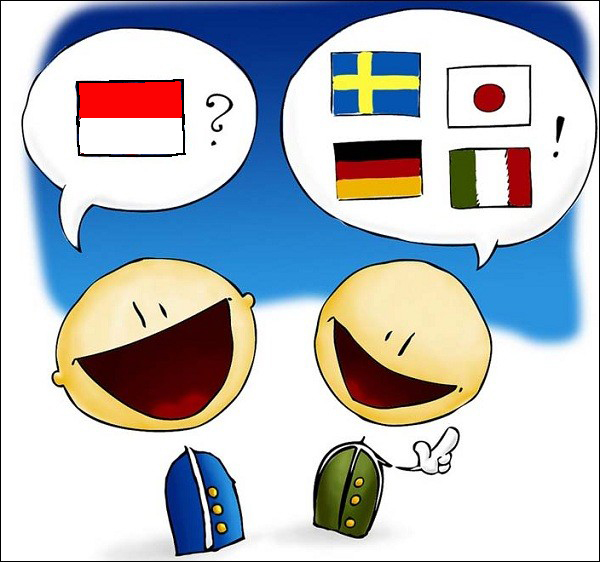 (image taken from:
www.wetooktheroadlesstraveled.com

)

In the touristic area like Kuta, Seminyak, Ubud or Sanur, most locals speak English even though not fluently. However, there are many of the locals who don't. So, it is important for foreigners who are planning to come to Bali for holiday, work or live to know basic phrases and words in Indonesian to be able to communicate with the locals. This will help you to live your Bali life easier. In addition, the locals love it when you speak Bahasa Indonesia, they will right away to make friends with you if you speak Bahasa Indonesia to them. As an advantage, your Bali life will be a lot more easier.

To start with, here are some basic words and phrases you can learn to be able to communicate with the locals :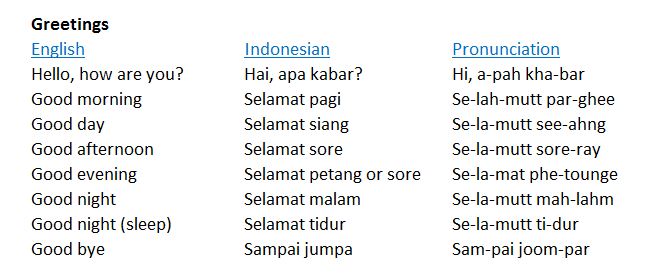 Note: For Selamat pagi, Selamat siang, Selamat sore or Selamat malam, we often shorten the greets without using "Selamat". So we just say "Pagi, siang, sore or malam", similar as when native English speakers greet only saying "Morning" instead of "Good morning".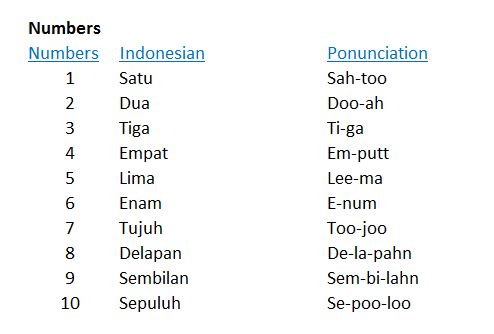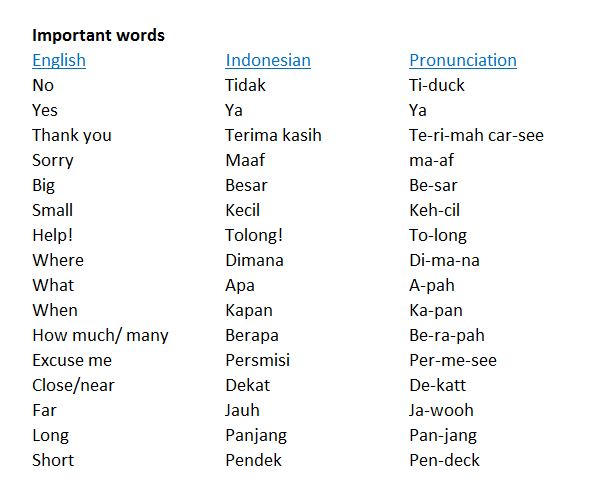 Note: We sometimes say "Terima Kasih" as "Makasi" which similar meaning as "thanks". Also, we say "nggak" instead of "tidak" to sound more casual because "tidak" sounds very formal.
If you go to Indonesian warung, normally they will serve food or drink that normally served to Indonesian. For example: they put sugar on your coffee or tea without asking, or put chilli or sambal on your food without asking. To avoid those, here are some important words when you are in a restaurant or small local warung.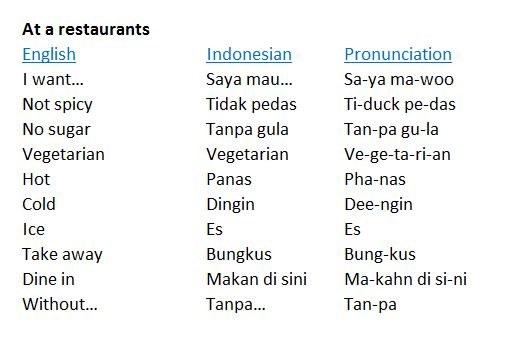 Here are some common words that often used for a basic conversation with locals or to use at grocery store or market.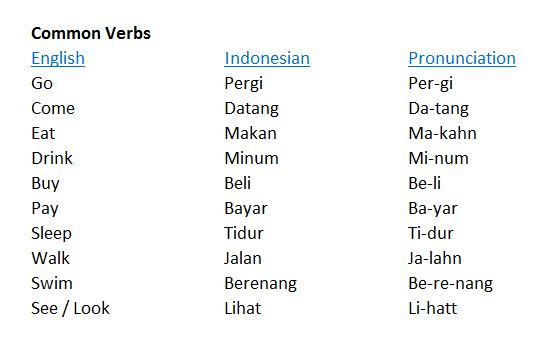 Here are some short sentences to start a conversation with locals. Once you can say some of these sentences, they will make friend with you right away. Oh! don't be surprised if they ask you some personal questions like "are you married?", it doesn't mean that they want to know your personal life, but it is a normal question in Bali.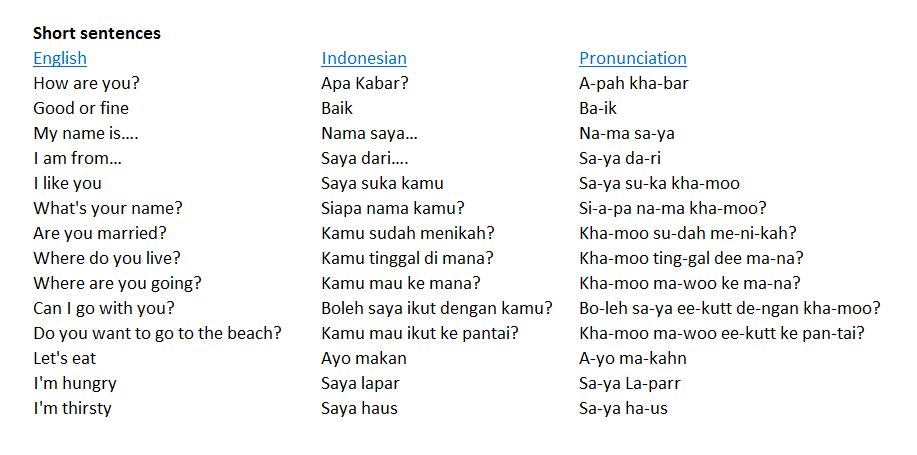 Easy right?
If you wish to learn more details about Indonesian language, click here. Good luck and be ready to have many local friends and speak Indonesian fluently!
So, did you find this article helpful for you? If you do, click SUBSCRIBE to be the first one who get the latest blog post!
Third Party Content Disclaimer
The Web site makes available information of third parties (the "Third Party Content"). You acknowledge and agree that the Third Party Content is not created or endorsed by Travel Blog Astadala nor are any products or services offered through it. The provision of Third Party Content is for reference purposes only. You acknowledge that the Third Party Content provided to you is obtained from sources believed to be reliable, but that no guarantees are made by the Web site or the providers of the Third Party Content as to its accuracy, completeness, timeliness. By using any Third Party Content, you may be re-directed to an external website, if you decide to visit any such site, you do so at your own risk and it is your responsibility to take all protective measures to guard against viruses or other destructive elements. Travel Blog Astadala makes no warranty or representation regarding, and does not endorse, any linked Web sites or the information appearing thereon.
Tags: Bali language
Wedding is a huge event in everyone's life, so it is for Balinese. In a Balinese wedding, there are many unique processions involved. From the process of meeting the parents to get engage, to the process of the wedding reception/ party. Unlike the normal western wedding which you can just go to church with your partner and say "I do" in front of the pastor, in Balinese wedding, the couple has to go through every procession that are involving their family and people from the local society where they are from. It is not a 2-person-only event. What are other things involved in Balinese wedding? Here are 4 things bout Balinese wedding you want to know:

Balinese couple, photo credit: http://balicaricature.blogspot.com
1. The Balinese Bride and Groom
Being a couple who are in love to each other is not enough to make a decision to get married in Balinese culture. There are many other things that need to be considerate. There is a saying in Balinese culture which means " You are not only marrying the bride, but you are marrying the family as well". This saying means, once you married your partner, you will have responsibility to take care of their family as well. That is why, many married couple still live with their parents because they have to take care of them.
Similar with Western culture, the wife has to follow the husband's name. While in Balinese culture, the wife has to follow the husband's caste. If the husband has higher/lower caste than the wife, the wife will be upgraded/downgraded to the husband's caste. Normally. for the higher caste Balinese, they deliberately look for a partner who are from the same caste to be able to continue their blood.
Read this blog post to know more about Balinese Caste: Why Balinese Have Same Names?

Balinese Wedding processions, Photo credit: Dedot Photography
2. The Unique Processions
The first possession before the wedding is to meet the parents. Both sides of the main family members will meet to know each other and to make arrangements for the future plan. When the decision has been made, then the big families will meet, this profession is similar with engagement, however it does not involve any engagement ring. Then, it is time to choose the good day for the wedding. Choosing the good day is unlike choosing any days or dates you want. They have to go to a certain person who is from the highest caste of Brahmana who knows about Balinese astronomy. Once the date is chosen, they start to prepare the pre-wedding ceremonies.
The pre-wedding ceremonies started with family members from the groom side come to the bride house to ask permission to "take" their daughter to move to the groom house, and for the bride to leave her family temple. This ceremony called Ngidih, in English translation means "ask". Then, on a different day another ceremony is held at the groom house to "welcome" the bride as the future new family member. Then, the bride is officially moved to the groom house and she is also officially moved to the new family temple. Those ceremonies are normally taken place at their home town where their family temple is located. Then, they are ready for the big day. The wedding ceremony is normally held at the groom's house in the home town, not in a ball room or special building. The wedding ceremony is normally attended by the family member, relatives and neighbors.
3. The Colorful Wedding Costumes
Unlike western wedding which the bride wears white wedding gown and the groom wears suite, Balinese bride and grooms wear colorful wedding costumes with many attributes that has its own philosophy. Their wedding costume is not chosen by themselves, but it is already chosen according to the caste of the family. The typical material of Balinese wedding costume is Songket,  with Golden threads layers, the color of the material is normally bright colors like blue, yellow, orange or red which represent happiness and celebration. The luxurious Songket also shown how wealthy the family and how high the level of the caste is. Other than the dress, the groom wears some kind of head cover that tight to the head while the bride wears some kind of crown with golden decorations. The higher the crown, the higher the caste of the family is.
Are you interested in Balinese wedding costume and want to try one? Lagoon Spa Seminyak has Balinese Wedding Photo Session. You and your partner will be dressed in a traditional Balinese wedding costume, their staff will provide the make up and hair do and help you to wear the costume, and they will have a photographer taking photo of you and your partner. Add collection of your wedding photo wearing Balinese wedding costume.
Balinese wedding reception
4. The Traditional Balinese Wedding Reception
After all the long processions, the last part of the Balinese wedding is the wedding reception. Normally, the Balinese wedding reception taken place at the house of the parents in their hometown. They will set up decorations using palm leave around the reception area. The venue is normally the front yard of the house. They set up a tent with lines of chairs or carpets on the balcony for the guests. They serve food that are normally in buffet style. It is practical and easier to serve since there is no table for the guests. They don't use normal plate, but they use a traditional plate made of woven rattan with rice paper.
The wedding reception normally lasts for the whole day so that the guests have flexibility of time to come to the wedding according to their availability. In the very traditional family, the wedding presents are normally in a form of goods that useful for the household (glasses, bed sheets, plates, etc.) while in a more modern family, the wedding present is in a form of money.
Did you know?
To organize the Balinese wedding ceremonies and reception, Balinese don't really use any wedding organizer, but they normally get help from the people of the village. That's how the community works in Bali, people help each other every time they have some events in their village.
So, do you like this article and find it interesting? If you do, click SUBSCRIBE to be the first one who get the latest blog post!
If you! want to stop receiving the updates in the future, you can unsubscribe at anytime.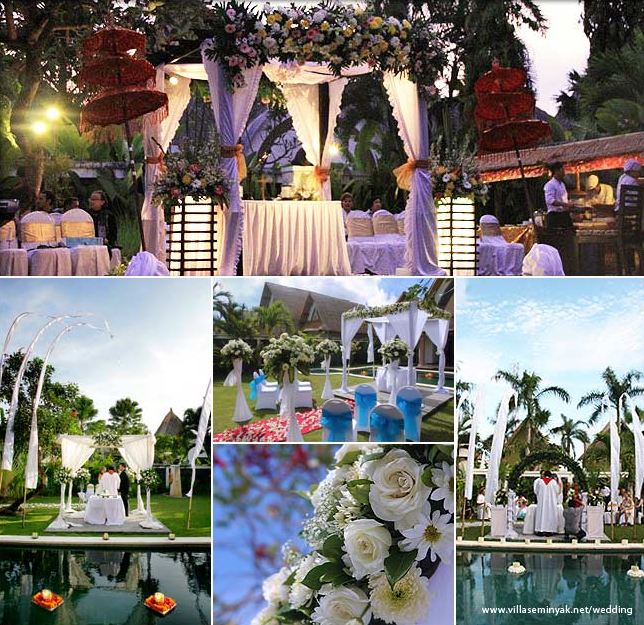 Bali Villa Wedding at Villa Seminyak Estate & Spa
Tags: Balinese wedding costume balinesewedding culture Wedding